Leadership
Clergy
The Rev. Denise Bennett, Interim Rector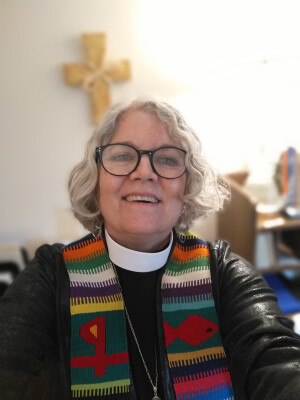 Denise Bennett is delighted to be back at St. Andrew's serving as the Interim Rector. She started attending the church in 2014 at the invitation of a friend who told her "There is a charism of love at St. Andrew's" which she found to be true then and still is! Denise graduated from Union Presbyterian Seminary with a Master of Divinity degree in 1999 and served as a lay chaplain at Hermitage Richmond, a retirement community on Northside, for 21 years. After joining St. Andrew's, she began to feel the call again to ordained ministry. She received her certificate in Anglican Studies from Virginia Theological Seminary in 2021. Denise was ordained a transitional deacon (the service was at St. Andrew's) in June of 2021 and served at Emmanuel Brook Hill in Richmond. She was ordained to the priesthood in December of the same year. Denise is a storyteller, writer and harpist. She is married to Jim Bennett who is the music minister at St. John's Episcopal Church and they have two grown sons, Joshua and James.
Email:
The Rev. Deacon Barbara Ambrose, LCSW
Barbara is our vocational deacon. She has served at St. Andrew's since she was ordained in 2011.
Email:
Staff
Demas Boudreaux, Director of Music
Demas joined the St. Andrew's staff in October of 2018. Most recently he served as the Minister of Music at Southminster Presbyterian Church in Chesterfield County. Originally from Boones Mill, VA, Demas holds degrees from Hampden-Sydney College, Virginia Tech, and Lynchburg College. He works full time as the Government Relations Manager for the Virginia Housing Development Authority.
Email:

Paula Harper, Bookkeeper
Paula works on Tuesdays keeping our books, cutting checks, and recording deposits and other transactions.
Britton Trimble, Office & Ministry Assistant
Britton manages communications, edits the church's web and social media sites, coordinates volunteer and building schedules, produces newsletters and bulletins, and videos our services. She holds an A.B. from the College of William and Mary, and an M.B.A from Virginia Commonwealth University. Originally from Gloucester County, Virginia, she lives out in the woods of Hanover County with her husband, Jim, and their four cats.
Email:
Phone: 804-648-7980
Vestry
Katie Eskridge, senior warden
Jack McHale, junior warden
Christine Baur-Millward, registrar
Laura Boucher
Renee Ferrucci
Ken Forti
Patrick Hall
Elizabeth Marundé
Conor Salter
Email:

In Memory of Eddie

Griffith, Sexton

Eddie, who died on January 15, 2022, was our beloved sexton who served for many years (as his parents did before him), helping to maintain the buildings and grounds at St. Andrew's. We celebrated his life with a service on Saturday, February 5, and are planning an outdoor celebration that will be filled with music and memories, which will be held later this spring. We invite your continued prayers for all those whose lives were touched by Eddie's and who loved him. We will post details about the springtime outdoor celebration of his life as soon as we have them.