Special Services
Special Services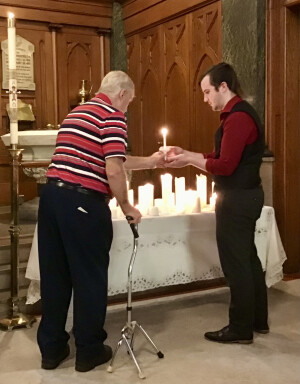 Throughout the year our worship changes to reflect the different seasons of the church year, including a number of special services. You are invited to join us in-person or on our Facebook & YouTube pages.
Advent
On the four Sundays that precede Christmas - December 3, 10, 17, & 24 in 2023 - we provide space for quiet contemplation as well as the joyous anticipation of Christmas. Our 10:00 a.m. service of Holy Eucharist on the Fourth Sunday of Advent, December 24, will include our annual pageant!
Christmas
All are welcome at our joyous 5:30 p.m. Christmas Eve service of Holy Eucharist. We'll gather in the chapel at 10:00 a.m. on Christmas morning for a service of Christmas Lessons & Carols with Holy Eucharist. We celebrate the whole of the Christmas story with our service of Lessons & Carols at 10:00 a.m. on Sunday, December 31.
Peyton's Ordination
Join us and friends from around the diocese at 10:30 a.m. on Saturday, January 6, at All Saints Episcopal Church, 8787 River Road in Richmond, for Peyton's Ordination to the Priesthood.
Candlemas Evensong
We're adding a new service this year: Candlemas Evensong! We'll gather at 5:30 p.m. on Sunday, February 4, to commemorate the presentation of Jesus and the purification of Mary in the Jerusalem Temple with a lovely, music-filled service.

Lent, Holy Week, and Beyond
We mark our Lenten journey with Ash Wednesday (February 14, 2024) services of Holy Eucharist at noon and 7:00 p.m. that include imposition of ashes, and are well-known for our beautiful Holy Week (March 24-30, 2024) and Easter (March 31, 2024) services. In early October, we celebrate the Feast of St. Francis with a Blessing of the Animals, and remember our loved ones who have gone on before us by celebrating the feast of All Saints' on the first Sunday of November.