Education for Ministry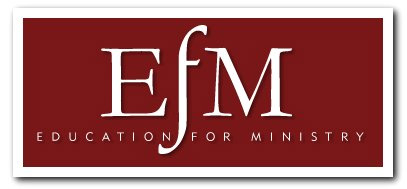 By Kay McCall
What is EfM?
Education for Ministry (EfM for short) helps us understand how we are called into relationship with God, neighbor and creation wherever we are – at home, at work, in all the places we spend time. In EfM we study scripture and Christian history. We worship together. We talk, we listen, we get serious, and we have fun.
Developed by the School of Theology, University of the South in Sewanee, TN 40 years ago, the program is divided into four years. However, participants commit only to one year at a time. At our weekly meetings, we reflect on our readings, our questions, and the events of our lives. Books are supplied with tuition. There are no tests or papers, but snacks are usually involved.
St. Andrew's EfM group is a vibrant community. We meet once each week for two and a half hours from September to May. There is a tuition; scholarships are available. We would love to have you join us. If you would like more information about EfM at St. Andrew's, please contact Kay McCall at or 836-6191. More information about EfM generally is available at http://efm.sewanee.edu.
When Barbara sends us into the world to love and serve the Lord rejoicing in the power of the Spirit, what does that look like and how do we do that in the places we live and work? EfM provides the time and space to ponder those questions. Curious? Join us!