Coming Home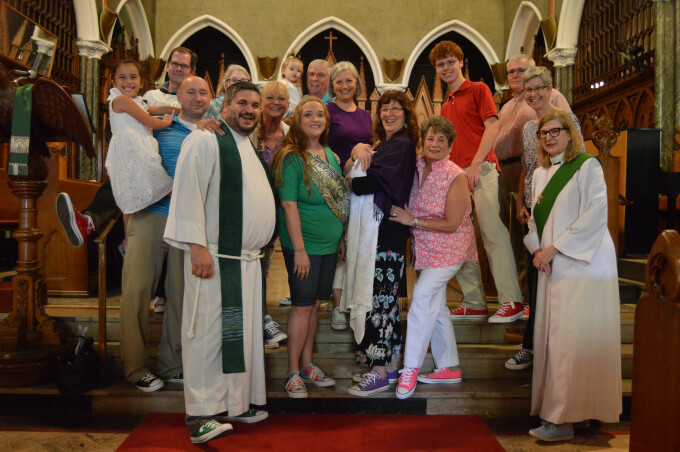 It was the Friday of my first week here at St. Andrew's. I hadn't even made it to Sunday yet and it had been a very full week. I was tired, I still had a sermon to write for Sunday, and I was sitting in my office surrounded by unpacked boxes. For weeks, all summer really, I'd been feeling unmoored. I knew that this exciting new adventure awaited me, but it took what felt like forever to get here! And now that it was here, I didn't feel any more grounded than I had before.
It was a summer of transition. Really, for a number of years, it had felt like I was either entering into or coming out of a time of transition. I knew from the outset that my first job as a parish priest was temporary. I was a Curate (a fancy name for a newly ordained priest) at a large parish in Greenwich, CT. The goal was to continue learning, to gain lots of experience in a short period of time. I loved the people and my time there but I wasn't really able to put down roots because we all knew I wouldn't be there long. It was as though I was just passing through.
I moved to Richmond with an idea of what shape my ministry would take while at St. Mary's. Little did I know what God actually had in store for me! About the time I began to feel settled, my rector announced she was leaving. Transition had snuck up on me again! And this one was a little more complicated. Rather than hiring an outside Interim Rector, the vestry asked me to lead the parish through the transition period. What ensued was ten months of unexpected joys and challenges. I was surrounded by loving and faithful people who assumed leadership in grace-filled ways. Incredible ministry took place in familiar and surprising ways. But underneath it all ran a current of uncertainty. None of us knew what the other side of this transition would look like.
When St. Mary's joyfully called David May to be its rector, I again began to think I knew what shape my ministry was going to take and what my new role would look like. And, once again, the Holy Spirit took me by surprise. Less than a week after we made the announcement, the diocese reached out to me asking if I would be willing to be considered here at St. Andrew's. I'd heard about St. Andrew's in passing but I knew very little of your story. But, still, there was something that began to capture my imagination. And so I agreed to have my name submitted. After all, what could it hurt to have a conversation?
I arrived to meet with the Vestry and something happened. I was immediately struck by the church itself. Somehow it managed to be both grand and homey, magnificent and welcoming all at once. It was as though you could feel the prayers of all those who have come before us, just seeped into the walls. And the conversation with the Vestry was equally intriguing. I immediately felt at ease with them, as though we were old friends. I asked about their hopes and dreams for St. Andrew's in the next five years. And when I left I knew I was going to have a lot to pray about because it felt like I had just met "my people."
Has that ever happened to you before? You're with a group of people you've just met and you instantly feel comfortable. Awkward small talk is replaced by easy laughter and understanding. You just know that these are "your people," the ones with whom you belong.
Leaving St. Mary's was not an easy decision. But accepting St. Andrew's call was remarkably simple. Never before has the Holy Spirit been so clear or forceful. And so my series of transitions took another unexpected turn. Saying farewell to the beloved people of St. Mary's was equal parts wonderful and difficult. I packed up my office, preached my last sermon, and moved across town.
Which brings me back to the end of my first week. It had been a whirlwind of a week. I'd met so many people, read so many files, tried to understand how the liturgy was going to work. I still didn't know what I was going to be saying from the pulpit. But I decided that nothing else was going to get done until I unpacked my office. I just couldn't take the boxes surrounding me any longer. Maybe if the boxes were unpacked and the books were on the shelves, I'd feel more settled.
It certainly helped…a little. It looked more like I belonged here. I could find the books that I needed for my sermon prep. I had a few photos on the wall. The space was slowly becoming mine.
But it didn't do much to calm my nerves about the coming Sunday. Would I make a good first impression? Would I like the people? Would they like me? I'd decided to go all in and wear my green Chuck Taylors on the first day (the epistle did instruct us to wear the shoes that would help us preach the gospel after all). I was going to be unapologetically me.
I walked into church on Sunday morning and discovered the Holy Spirit had one more surprise up her sleeve. I noticed one person wearing their Chucks…and then another…and another. I started to get goose bumps. Without my knowledge, many of you had arranged to wear your colored Chucks to make me feel at home. What a gift! If I had any remaining doubts, this truly confirmed that you are my people. I was home.
Throughout this long series of transitions I met many amazing people and got to be a part of some incredibly beautiful moments in God's service. But running underneath was always a desire to put down roots, to be in a place where I belonged. I longed to be in a place where I felt truly known.
On some level, isn't that what we all desire? A place where we can fully be ourselves. A place where we can set down the burdens of the world for a time. A place where we can share in celebration and sorrow alike.
Over the course of the last six weeks I've heard many of your stories of the first time you came to St. Andrew's. They have a lot of things in common with my own experience. You immediately felt comfortable. You were greeted warmly. People remembered your name when you came back. You might not be able to fully articulate why, but from the moment you arrived some part of you knew that you belonged here.
I've had so many moments of overwhelming gratitude that in God's infinite wisdom, the Holy Spirit led me to St. Andrew's. They have come at varied and unexpected times. Looking out at the congregation from behind the altar on my first Sunday as we prepared to feast there together for the first time or hearing the prayers of the students at St. Andrew's School in our weekly chapel service. Getting to hear each of your stories as we broke bread at the welcome meals or hearing the reflections being offered in the Adult Forum. Visiting parishioners in the hospital or their homes or getting high fives from some of our youngest members as they leave the church. All have been moments when I have experienced God's grace in profound ways.
It really is true of St. Andrew's. No matter who you are, no matter where you are on your spiritual journey, you belong. Thanks be to God for this remarkable community and for helping us each find our way here!